Well, I was thinking to maybe add on to this wikia more. Maybe we could add this new feature called "Wikia Awards". It is a picture that can be posted on talkpages to award someone by earning a MAJOR achievement. (Not Minor Ones.) (Major Ones = 250 edits, 250 articles to catergory etc.) I have a example photo right here.
Maybe I'll do a Wikia Trophies? It sounds pretty unusual, but hey, what can you do? What do you think about this? Should I cancel it or start it? Please leave a comment below :D
★Someone says★ ~ ★Who said that? Who said this?★
Someone says (talk) 06:45, November 12, 2013 (UTC)Someone says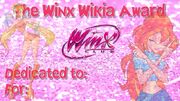 Ad blocker interference detected!
Wikia is a free-to-use site that makes money from advertising. We have a modified experience for viewers using ad blockers

Wikia is not accessible if you've made further modifications. Remove the custom ad blocker rule(s) and the page will load as expected.