Roxy wait! Don't go!

This article is an Article B! Meaning it is missing three or fewer sections, or some images need to be added. Please do what you can to help!
Stella
Voiced by
Amy Gross
Seasons
1-6
First appearance
"An Unexpected Event"
Eyes
Hazel
Hair
Blonde (inherited from her mom, Queen Luna)
Symbol
Star
Stella is the fairy of the Shining Sun. Stella used to be a talkative girl, carefree and loved being the center of attention.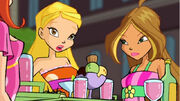 She had an infamous reputation, but she changed throughout the story. She changed because of her friends. She tends to be spontaneous and dislikes extensive planning, but she is able to recognize when her help is needed.
Stella cares a lot about her appearance, and is the most stylish and fashionable of the Winx. She loves fashion, and her dream is to be a fashion designer, so she's always creating fashion forward outfits for herself and her friends.
She can be high-handed and sometimes a little bit insensitive. But when it comes down to it, Stella is brave and loyal.
She is the princess of the planet Solaria, which is the brightest and sunniest planet in all the magical dimension. Since Solaria is her birth planet, she is the only heir to her parents' throne. Her mother, Queen Luna, represents the moon and her father, King Radius, represents the sun. It is revealed in season one that they are divorced, but she wishes they would get back together, as is shown in season three.
Her pixie is Amore, the pixie of love, and her magical pet is Ginger, a pink poodle. Her bonded selkie is Illiris, the keeper of the gate of Solaria. She is Brandon's girlfriend. Stella is one of the strongest fairies as she derives her power from the shining sun.
Stella's birthday is August 18. Her hobbies are designing clothes and shopping. Her signature colors are yellow and orange. She is currently voiced by Amy Gross in the Nickelodeon dub and Amy Birnbaum in the 4Kids dub.
Stella's Gallery
Transformations
Magic Winx
Magic Charmix
Charmix
Enchantix
Believix
Sophix
Lovix
Harmonix
Sirenix
Stella's Spells
Ad blocker interference detected!
Wikia is a free-to-use site that makes money from advertising. We have a modified experience for viewers using ad blockers

Wikia is not accessible if you've made further modifications. Remove the custom ad blocker rule(s) and the page will load as expected.